When the police attend an accident scene, the officer has an obligation to investigate why the accident happened.
Where the police officer believes a law has been broken, the officer may issue a traffic ticket.
In rear end accidents the officer usually issues a traffic ticket for careless driving because, they believe the driver was "driving without due care and attention".
The accident happened because "the driver was not being careful enough given the road conditions or vehicle traffic".
A rear end accident may have occurred because the driver: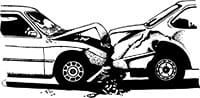 was distracted
made a driving mistake
wasn't paying attention
was following too closely
was going to fast to stop