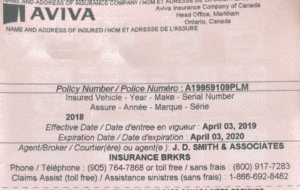 Compulsory Automobile Insurance Act  s 3.1
Where a police officers observes a motor vehicle being driven on the roadway, the officer may stop the vehicle and demand that the driver produce evidence of valid insurance for the vehicle.
If the driver of a motor vehicle cannot provide proof of valid insurance, the officer has two (2) options.
If the driver is the owner of the vehicle the officer can charge the driver with:
Operate a motor vehicle without insurance, or
Fail to surrender insurance card
Where the driver has merely forgotten the insurance slip they can attend at the traffic court and the charge will normally be canceled.